The greatest gift that we could ever give our mother's, our grandmothers, our ancestral lineage of women is forgiveness. A release from the binds of pain passed down from generation to generation. As women who are awake, who are aware, we have an opportunity to heal, not only ourselves but for the women who came before us. When we stop blaming, we start healing and that's where we must begin. Blaming only keeps us locked in to bitterness. It withholds us from seeing clearly, from taking honest stock in ourselves and taking responsibility for our lives.
Yes, our parents brought us into this world, they raised us, they tried to set boundaries for us, they clothed us, the taught us right, they taught us wrong, they loved us, they grounded us, they traumatized us, as did theirs and so on down the line. Each generation has only the set of tools the last generation passed down, most of them seriously lacking in emotional intelligence and clear communication, with each birth passing down unresolved shame, guilt, anger, trauma, carrying pain that didn't belong to them, but they now fully possess.
But today, with this kind of clarity, we no longer need to be the victim of their trauma and they no longer the villain. We can choose to see things differently, to rewrite our story, to shift our perception from blame to acceptance, guilt to kindness, hurt to healed from deep seeded anger and resentment to LovE.
One day, I had this realization, an ahhh haaa moment that some of the pain I was carrying around wasn't mine. Some of my beliefs didn't feel authentic to me. Intuitively, I started to put it all together. There was so much pain, shame and guilt I was carrying for my mom, and her for her mother and so on down the line. That awakening allowed me to begin to take an honest look at what was truly mine and what I needed to release.
I've only just begun letting go of old thought patterns that do not serve me and didn't originate from my being, but little by little, as I let go, I heal and become more in touch with my truer self every day.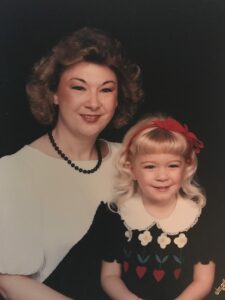 There's no hiding from what was birthed into us. No running from the cells that carry the most ancient wisdom and memories of suffering, grief, heartbreak and trauma, not only from our mother's, but from the female lineage as a collective whole. What we must do is recognize this suffering we all share, begin moving through it, getting to know it, befriending it, that is where healing begins. We must begin to LovE our own selves enough to give ourselves, both personally and collectively this gift of freedom.
I don't know about you, but loving myself in a way that feeds my spirit, that accepts every little dark corner, every flaw and forgives myself for my most glorious mistakes is incredibly difficult. The undoing of so many misconceptions about myself, my limitations, my incredibly painful stories that have played in a loop and been ingrained in my mind, is a life long journey that I am learning moment by moment to navigate as gracefully as possible. I have come to understand, the more I heal and accept these things about myself, the more LovE and compassion I can show my mother. The more forgiveness I can give my mom and my grandmother. It's challenging to be soft and gentle with myself. I get so angry for not being able to extend the same kindness toward myself as I do to others, which defeats the purpose. It's a very painful cycle that effects the way I connect with those closest to me. At least now, I can cycle through it and come back a little gentler on the other side. The saying is true, "what you don't have, you can't give away." When I'm in a space of self flagellation, it's still difficult for me to extend grace towards my mom and a lot of the other women in my life, but my awareness and moments of pause are helping me shift from anger and annoyance to LovE and empathy more times than not. I take responsibility for my life, for my faults and shortcoming. Some of those my mother passed along, but they are mine now. They are mine to overcome and mine to heal.
My mother, has been the greatest teacher, not only in the moments of LovE and solace, but actually, more in the times when she stumbled and failed. Her wounds, wounded me, but I am now allowing them to be my teachers instead of my tormentors. The bitterness no longer stands between us. Forgiveness has cracked open the protective shell surrounding my heart and through my own healing is helping heal generations of wounded women. We are all meant to be broken in our own ways and meant to break each other, so that our souls can grow and evolve in all the ways they came into this glorious world to do. None of us are mistakes. None of our battle wounds and tragedies are pointless.
My prayer for all women is to begin to see each other in all our shattered glory as the gifts that we are. We may never completely understand each other, agree with how we conduct our lives or possibly even be in the same room, but through acceptance and forgiveness we can experience our oneness as spirit, our interconnectedness as women and from that place, uncover LovE and empathy we never knew ran so deep.