So far, "Harvey" has claimed the lives of 30 people, destroyed tens of thousands of homes and business and has returned yet again, making landfall last night, dropping even more rain, not only in Texas, but also parts of Louisiana. Amongst the heartbreaking devastation in 33 counties that have now been declared disaster areas, there are genuine acts of lovingkindness being demonstrated and big hearted heroes risking their own lives to save people and animals trapped amongst the rising waters. With so much negativity in the news, we wanted to shine some light on these heroes and the goodness that very much exists in this world.
I was just in Houston a few months ago playing "Houston Pride" and got to experience first hand the loving people of the city. My heart, prayers and LovE go out to everyone who has been effected by "Hurricane Harvey."
Most of us I am sure are wondering how to be of service during this tragic time. Click here for a list of organizations where you can make a donation to help those in need. At least we can start there.
IF YOU ARE IN NEED OF BEING RESCUED OR CAN BE OF SERVICE IN HELPING RESCUE OTHERS, PLEASE CLICK HERE
CNN crew helps pull elderly couple from flooded home – Read More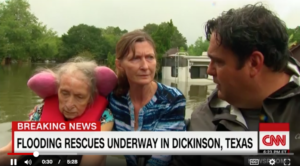 NBC talks with boaters who are going in and out of flooded areas to rescue people and pets – Read More

Grandma rescued from her flooded home on a jet ski – Read More

A group from Greenbrier spent the day in Houston rescuing folks from a nursing home – Read More