My skin has always been something I am hyper vigilant about taking care of. Having suffered from psoriasis since I was a baby I am always on the lookout for the best body lotions or oils to keep my skin supple and moisturized. I stumbled upon Jiva-Apoha oils on Instagram this past year and ordered a bottle of Atman oil. The moment I first tried it I felt like I was in heaven. A routine that I have done over and over and over agin for years all of a sudden became one of my favorite, nourishing self practices and all because of this healing, loving, sensual oil.
Recently, I had the intimate experience of creating my own custom oil with Angela Shore, the creator of Jiva-Apoha and have gotten to experience her kindness and passion over several email exchanges. I hope to one day soon hug her and thank her in person. She is a beautiful, wise soul who is incredibly passionate about getting the message out about how oiling is a delicious, healing practice full of wellness benefits. She's a healer, an Ayurveda practitioner, a modern day medicine woman and I'm so honored she was willing to step into our spotlight and chat with Soul Of EverLe to answer some of our need to know questions about oiling and give us a peek into her heart and her world.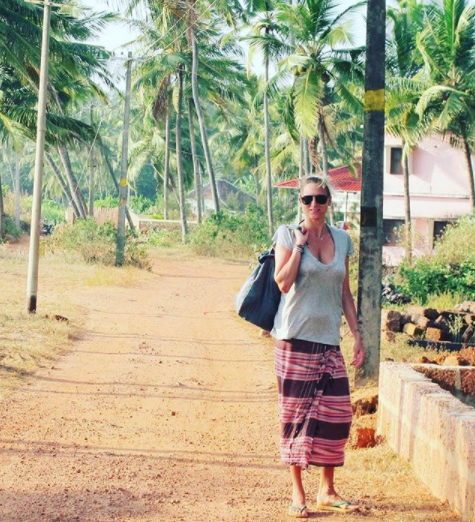 Your oils are unlike any other I have ever come across. You can literally feel the LovE and care that goes into each bottle. What's your process when creating a fragrance?
Thank you so much! The oils are very much alive and have energy, the aroma itself is a natural high. It's also a deep focus and practice. It's what initially changed my life, so staying grounded and present is an important daily energy that I infuse in the making while honoring the hand-blending process.
What are the wellness benefits of a daily oil practice?
There's an overall calming effect with OILING. It helps heal various skin conditions such as (scaring, acne-prone, fine lines and wrinkles), strengthens immune system, nourishes tissues, keeps skin hydrated and moisturized.
When oiling, is there a specific way to apply the oils to the body in which one would get the most healing benefits?
The best results are immediately after showering and bathing. Lightly use a towel but avoid drying the skin completely. This allows the pores to be open, to be moisturized properly and the oil ingredients and properties absorbs properly. Apply a generous amount of oil, from neck down entire body to bottom of feet.
Is there a story you can share with us where a client has seen a tremendous amount of healing from oiling?
I've worked with a few women over time who have suffered from Psoriasis. And by working with and introducing them to an Ayurvedic wellness approach, they have since learned to live more of a balanced life and have healed their skin. Oiling can be soothing, cooling and calming to the aggravated skin especially where there are the extra dry and itchy patches. In time after creating discipline with the use of organic skincare I have seen happy results and satisfied clients that are so thankful for the difference it has made.
Besides oiling, what are some of your other favorite healing, self care practices that are you daily go to's?
-In the morning tongue scraping with copper helps with boosting the immune system and great for digestion.
-I've been making fresh ginger root and lemon tea (lately 1-3 pots a week sometimes I will drink a pot throughout the day, amazing for the lungs and an overall skin glow.
-I cook with whole cloves, cardamom pods and turmeric almost everyday. I'm wild about turmeric, ginger and lemons, not to mention their essentials.
-I take various Ayurvedic herbs for my nervous system, kidney support and brain.
-Chlorella on my fruits, grains and greens to purify blood, skin and digestion and also have added CBD oils in my diet either by drops under the tongue or on my plant based foods.
-Bodywork (massage, chromatherapy / infrared saunas and yoga practice).
-More bath ritual with herbs and salts, here I use shea butter and oils while bathing and soaking to condition the skin.
What are you fully DEVOTED to?
the Divine. God within. the Great Spirit.
Light…my family, friends and animals.
If you could shine a SPOTLIGHT on someone who has either inspired you, helped you heal or that you admire, who would that be?
My MOM.
What do you love most about your SOUL CASE? (It can be a part of your body or just something you love about yourself)
My hands and feet.
I feel blessed to have and to use them in so many ways. My tools in handling, being mobile gives me freedom and the making to help others.
When you come down with a case of WANDERLUST, where do you love to travel and explore?
Everyday I think about my time in India. So, I journey there mentally but the more third world the better in exploring. Lately, I miss the desert. Getting ready for some new excursions. Warmth and big blue makes me feel free.