I must admit, I have never been more grateful for nutritious, delicious food than during this crisis and I am well aware that it is a tremendous blessing. Going to a grocery store and seeing the shelves empty, has been one of the most triggering experiences, I believe, not only for myself, but the majority. I know, having money to walk into a grocery store with the intention of buying groceries is a also blessing. AND the triggering is real. The fear is real. The hysteria is real. I believe a lot of us are triggered from either past life, soul imprinted memories when we went without proper nourishment, or from the trauma of our ancestral lineage that lives within our cells. These traumas, big or small are very much a part of our human experience and our human reality, and there are so many people still struggling to put food on the table as we speak. As I write this and make suggestions of recipes to cook for ourselves and our families, I want to recognize those who are struggling and acknowledge what a great privilege it is to be able to share nutritious meals with those we LovE.
In these uncertain times, comfort food has been a must in our home and so, I wanted to share a few recipes that I have been cooking while in quarantine. Grocery shopping has been a challenge. It usually takes 3 or 4 stores to find what is needed, but luckily, somehow, it all works out. We go fully equipped with gloves, masks and 6 feet of distance. We also leave our bags outside and wash or Lysol everything as we bring it in. Please be safe when you venture out for necessities and DO NOT VENTURE OUT AT ALL IF YOU ARE IN ANY WAY ILL. A loving reminder to us all! Please feel free to add to this list with your favorites, so we can pass around the only thing we need to be passing around… loving ideas to help one another thrive during this time. I LovE you all.

Baked Egg Ricotta Thyme Cups ~ A Healthy Life For Me
These are an all around winner for breakfast, lunch or dinner! I rhymed there…guess it IS in my name. Yes, I am amusing myself. Thank you quarantine.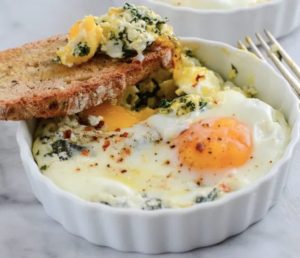 Strawberry Honey Pie ~ Cali'flour Foods
I LovE Cauliflour Foods, but if you can't get your hands on a cauliflower crust, this preparation on toast works too. It's been my morning go to as of lately. Also, if you're not dairy free, regular cream cheese and/or ricotta are great options for the topping.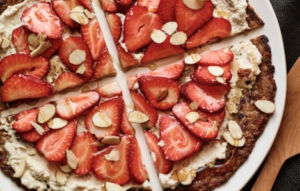 One Pot Creamy Greens Pasta ~ Nourish Everyday
I use chickpea penne pasta for my gluten free noodles. If you are not vegetarian, you can also add store bought rotisserie chicken breast, which keeps it on the quick and easy side. If you do add chicken, you may want to add a little more yogurt and reserved pasta water.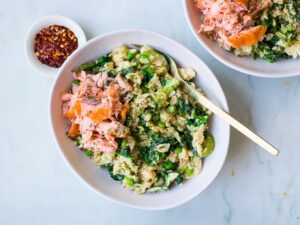 Mushroom Melt ~ Frugal Nutrition
The perfect upgrade to your usual grilled cheese. When I whip this up, I use Udi's multigrain bread and Braggs Liguid Coconut Aminos instead of soy sauce.